Voter Registration at Epic Systems
Most citizens of Dane County are aware that Epic Systems in Verona hires thousands of new workers each year. Many are recent college graduates and first-time voters, and many are from outside Wisconsin. Epic workers travel frequently and work long hours, so finding time to register to vote, obtain a Wisconsin Driver license, and learn about voting rules in Wisconsin is a real burden.
To help its workers be good local citizens, Epic Systems has partnered with League of Women Voters of Dane County Special Registration Deputies to arrange for on-site voter registration for its employees. Four voter registration drives have been held at Epic so far this year and another is scheduled. Each time, League volunteers have register approximately 400 voters. Marian Matthews coordinates these events, which run smoothly for the 8 or 9 League volunteers who staff the events, and for the Epic employees, who can register efficiently on their campus. Employees are instructed to complete their voter registration form online using MyVote, print the form, then bring it with their proof of residence to the registration site. They sign up for individual appointments so there are no lines, and volunteers are kept busy during their entire shift.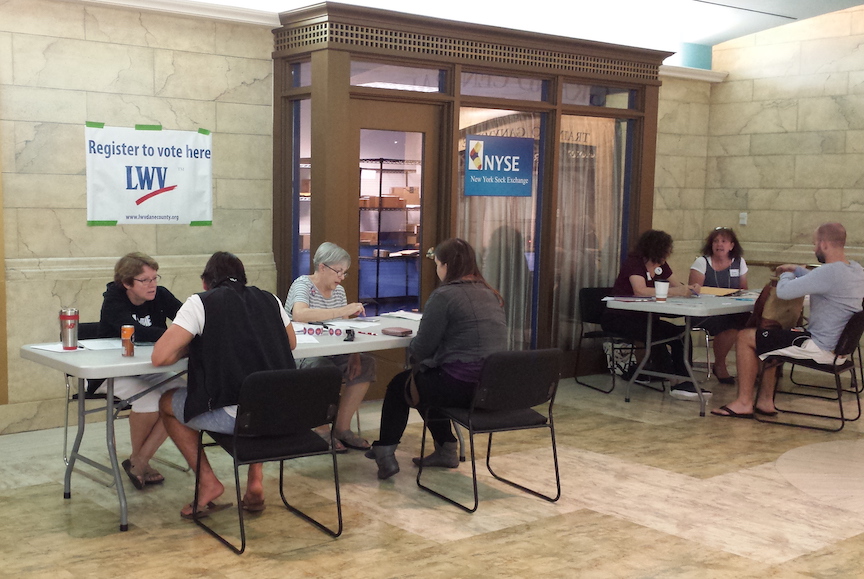 LWVDC volunteers make sure that registrants without a Wisconsin Driver License understand that their out-of-state license is not acceptable photo ID. Many have a passport they can use to vote. Others are informed that they will need to either obtain a Wisconsin Driver License or passport if they want to cast a ballot.
Epic employees are urged to use MyVote to see what is on their ballot and to use Candidates' Answers and other nonpartisan information sources to inform themselves about all the races and referenda on their ballots. They are also informed about opportunities to vote early by in-person absentee voting.
They are truly grateful that the League provides this service and makes voting more convenient in their busy lives.